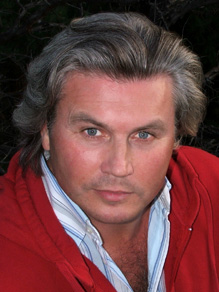 Wladimir Matuchin

is an actor, teacher and
director from St. Petersburg.
After he graduated from the academy
for theatre and film in St. Petersburg
he worked as an actor in various theatres in Russia.
Since 1991 he is working in Germany
as an actor in theatre as well as in film and TV-productions. Furthermore he
is a sought-after teacher.
Vita: Wladimir Matuchin
info@actorsstudio-matuchin.de




WAYS OF ACTING





Since 1991, the Russian acting teacher Wladimir Matuchin shows his students in his inimitable manner, what distinguishes a good actor from the bad.

Many of his acting students are well known to television and movie audiences, or they are studying after intense preparations at most famous national and international theatres and drama schools

The actor's school offers a broad spectrum from a first orientation in acting, up to background coaching for professional actors.
The headquarters of the actor's school is located in Duesseldorf. In addition, courses can be offered for preparation for international Drama schools abroad.

We cordially invite you to visit our other web pages and maybe this gets you a little bit closer to your dreams.


LINKS